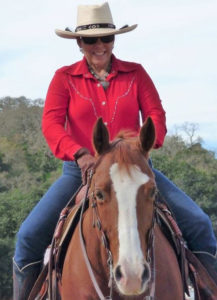 As a horse owner and competitor in Reining, Cowboy Dressage and Competitive Trail, I know how important it is to make good decisions about my horses' care and comfort. I struggled for months with one saddle purchase after another to try and find the perfect fit.  I studied all the information I could find, worked with my vet and trainer to learn more about what my horse needed and ultimately became exhausted. I thought I would never find the right fit for my wide and short backed horse.
Ultimately, I found 3 manufacturers that had spent their lives creating the solutions I was seeking. Because those products were so revolutionary to my horse's comfort, performance and attitude, I had to share them. These products were developed to help horses and riders experience comfort, fit, performance and good horsemanship.
When so many others are struggling with the same issues and concerns for their horses, I founded Saddle Fit Revolution so I could be a part of the solution they were seeking. I am continually seeking training and skills from some of the best in the industry. I work with Lameness Vets and Saddle designers working on the latest technologies in comfort and soundness. Our goals are aligned and our purpose focused on the best for horse and rider.
One of my main personal missions is to help horse owners better understand how saddle fit impacts their horse's ability to perform – whether going down the trail on a Sunday afternoon or during a rundown in a reining pattern.
Comfort at last! That is my focus and I never lose sight of it.